The Roadrunner PAC
The Roadrunner Parent Advisory Council is dedicated to bettering the lives of our students. We encourage and value parent involvement in our students' education, school activities, and lives. Check out our meeting schedule below and feel free to attend our presentations and planning meetings!
Upcoming Meetings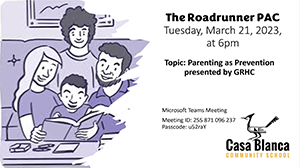 Tuesday, March 21, 2023 - 6:00 p.m.
Topic: Parenting as Prevention
Presented by GRHC
Location: Virtual - Microsoft Teams
Meeting ID: 255 871 096 237
Passcode: u52raY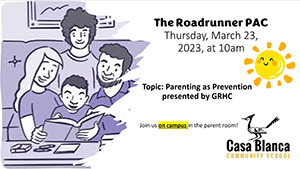 Thursday, March 23, 2023, at 10:00 a.m.
Topic: Parenting as Prevention
Presented by GHRC
Location: Parent room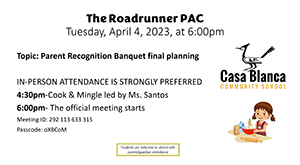 Tuesday, April 4, 2023, at 6:00 p.m.
Topic: Parent Recognition Banquet Final Planning Meeting
4:30 p.m. - Cook and mingle led by Ms. Santos
6:00 p.m. - Official meeting begins
In-person attendance is strongly preferred. If you are unable to attend in person, please feel free to join via Microsoft Teams.
Meeting ID: 292 113 633 315
Passcode: oXBCoM
*Students are welcome to attend with parent/guardian attendance.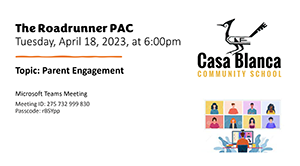 Tuesday, April 18, 2023 at 6:00 p.m.
Topic: Parent Engagement
Location: Virtual - Microsoft Teams
Meeting ID: 275 732 999 830
Passcode: rBSYpp